Back to catalog
Modular Connectors
Get a price offer
Admati's new line of modular connectors offer its customers the ease of configuring their own connectors specifically for their needs.
Admati's modular connectors, offer the unique advantage of requiring only a flat pad as your target, eliminating the need for a target connector. This greatly simplifies the design and allows for higher mechanical tolerances.
Admati's connectors provide a durable, shock and vibration resistant system. The spring contact probes can be used for power as well as for signal systems.
Available configurations are:
2 / 3 / 4 / 5 / 6 in plastic housing of 3 mm, 4 mm and 6mm
height with 2.54 mm   centers.
Connectors Specification
Configuration: 2, 3, 4, 5, 6
Usage: Power, signal and ground. (Can be combined Target connectors)
Connector Height: 3 mm, 4 mm, 6 mm
Materials
Based on chosen pins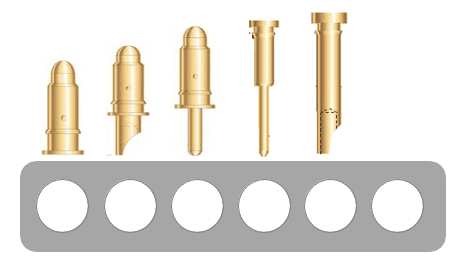 More from the Mechanical Catalog